15 Personalised Gifts For Babies And Toddlers | Pure Essence Greetings
15 Personalised Gifts For Babies And Toddlers | Pure Essence Greetings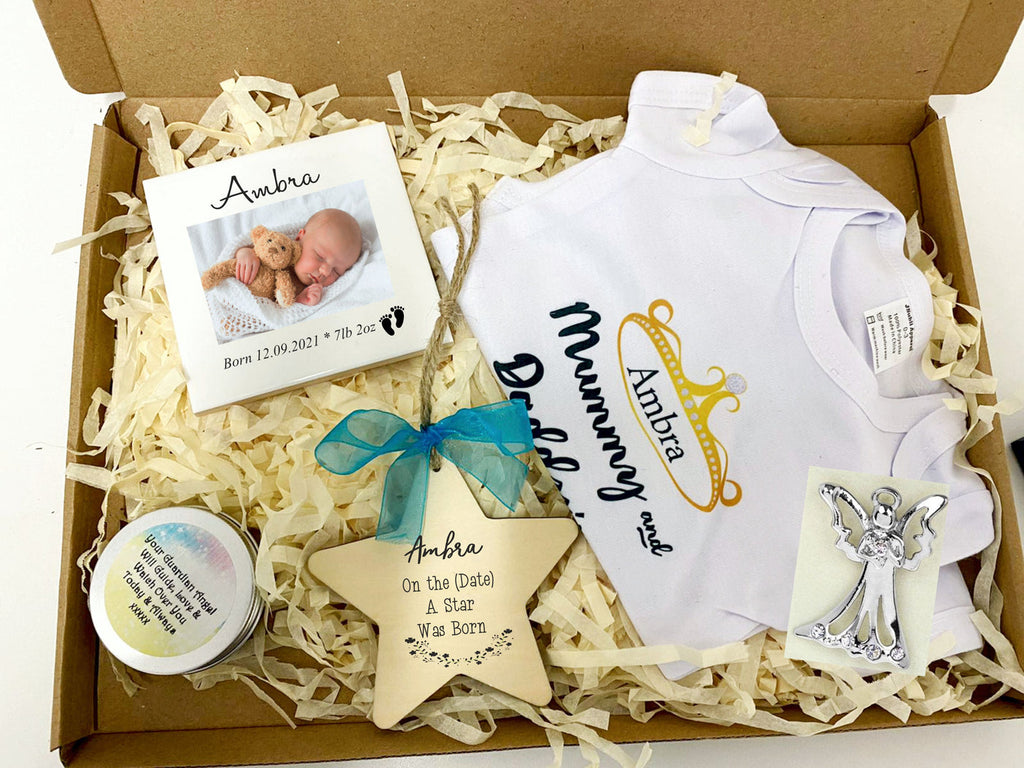 Finding the right gift for a baby or toddler can leave you with too many options, as they don't have any preference yet. However, play is natural for children, so it is okay to get them a few toys to help develop their motor skills. 
Now, if you are looking for the perfect gift to bond with your child and teach them about their name and identity, then you can never go wrong with a personalised gift! 
Personalised gifts are one of the best ways to show children that they are special. They are a perfect keepsake for your babies and toddlers and will be cherished in years to come.
Let's explore different categories of personalised gifts that are best for your babies and toddlers. These gifts can be given on different occasions like Birthdays, Christening, Christmas, Easter, Back to school, etc.
Gift Ideas For Toddlers
The best personalized gifts for toddlers are ones that are geared towards their interests or personality. For example, If they love animals, you can give them a colouring book about animals.
And when you personalize these items by adding their names to them, they will be thrilled to have such a unique gift that was made just for them!
Other gift ideas are;
A great lunch bag to keep all those lunch nibbles safe. Perfect gift for a child that loves football. Let your child be proud of their football team with this bag which is perfect for school.
Personalised Children's Colouring Set
Do you want to see that beautiful smile on your child's face? Then this colouring set will do just that. Keep your toddler busy with this great gift.
Unique Gifts For Babies
You may be running out of ideas on what to give a newborn baby or a special gift for your child's new milestone. Here are some ideas to get you started;
This letterbox hamper contains personalised items for a newborn baby. You can personalize it with the baby's name and some sweet words.
It is a great keepsake for new babies.
It is the perfect gift for showing off favourite memories. Choose a design to suit your space and make it personalised with your child's photo. It is a great gift idea for special occasions.
A teddy bear is always a great gift for kids, but putting their name or photo on it will make them feel extra special. A lovely keepsake for when you are not there. Complete with a little gift bag to add a finishing touch.
Personalised Gifts For Children Development 
Choosing a gift that is both fun and educational can be difficult. Children develop new skills and abilities in a steady progression as they get older. While these stages are occurring, changes in their brain are also happening.
Although every child develops in their own time, it is important to continuously stimulate their mind and senses in order to help them grow. Here are some gift ideas that can help children develop cognitive skills, literacy skills, fine motor skills, social skills, etc.
Children can learn the letters of the alphabet with this beautiful cushion. This will enhance their speech development skills. It can also be used as an accessory to decorate your child's bedroom.
Personalised Children's Number Jigsaw
A great gift for kids to have fun-filled activities with family. It makes play time fun and engaging. This will develop their social and problem solving skills.
Personalised Modern Nursery Rhymes Book
A perfect gift to create sweet memories and bond with your child. As you read to your child, it encourages listening skills and helps your child's cognitive development from an early age, especially since a lot of these rhymes have fun actions too! Personalise this book with your child's name, which will appear on the cover and within every illustration.
This activity book is a perfect gift to help your kids build creative skills and keep them busy.
Personalise this activity book with your child's name and a message.
A lovely money box to teach your child on how to save money for a purpose.
Unique Gifts for Decorating your Child's room
Add a personalised touch to your child's room with these gift ideas:
Children's Framed Initial Print | Alphabet Design
The best accessory to add colour and warmth to your child's bedroom. 
This special keepsake is a unique gift for a newborn baby. Decorated with cute animals and personalised with your child's name.
This personalised slate hanging decoration is the perfect gift to decorate a girl's bedroom. Personalise the hanging decoration with a name up to 15 characters long. 
Superhero Children's Door Sign 
This personalised slate hanging decoration is the perfect gift to decorate a boys bedroom. Personalise the hanging decoration with a name up to 15 characters long.
This clock is perfect for children who can't sleep. It makes a great nightlight and will help them to fall asleep. It is not just a functional clock, it is a beautiful piece of decoration that will give your child's room the look you want.
Personalised gifts for babies and toddlers are a great way to show love to your little one. These gifts can never go out of style and will always be cherished as they grow up. You can check for other gifts ideas in our shop. We also have unique gifts for different occasions at an affordable price. Visit us today for personalised gift items!