10 Different Ways To Celebrate Father's Day in Style
10 Different Ways To Celebrate Father's Day in Style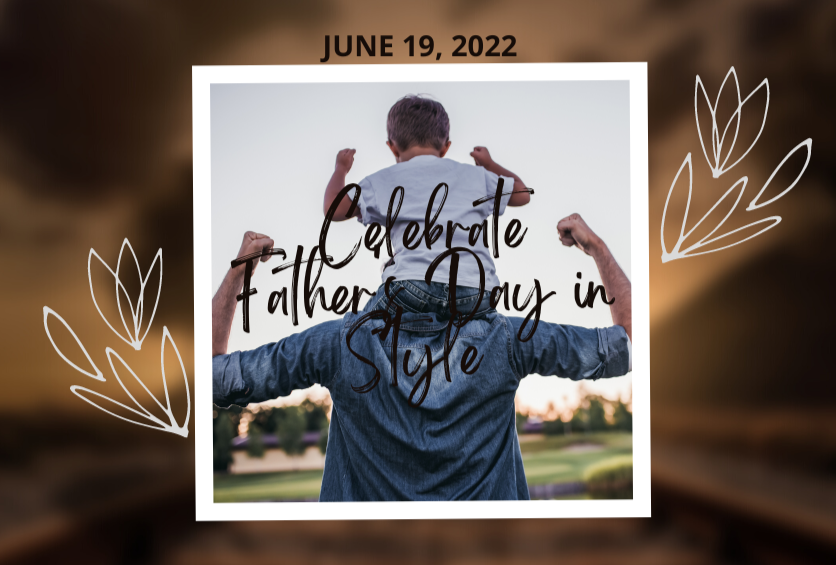 Father's Day is just around the corner, and if you are like most people, it can be hard to know what to do to celebrate it. If your dad has always been active in your life, there are a lot of things you can do to show him how much he means to you and your family. Read on and get some ideas on how to celebrate Father's Day in style!
What Makes a Good Dad?
Fathers are often considered to be the head of the family. They are usually the ones who have to provide for their family, protect them and make sure that they are well taken care of. A good dad should be a role model to his kids. 
They can help their children build confidence and self-esteem, and in turn, learn how to be an engaged, supportive, and loving father to their children. A good dad teaches his family what is important in life by demonstrating honesty, humility and responsibility.
Why is Father's Day so Special?
Father's Day acknowledges and celebrates the contribution of fathers to their own families and society at large. It is a day to show appreciation for all that they do for us and how much they mean to us. It can be emotionally, physically or even financially. 
Father's Day is that one special day every year to celebrate the fathers, honour fatherhood, paternal bonds and the role fathers play in society. It can look different for everyone, whether you are celebrating your father, spouse, step-father, brother, or a role model. 
Did you know?
Father's Day is celebrated on the third Sunday in June each year. This means that the exact date can change year to year!
How to Celebrate Father's Day…In Style! 
You may be wondering the best ways to celebrate your dad or the perfect gift to give them. Worry not! We have put together 10 different ways to celebrate the father figures in your life and make the day special and memorable.
1. Personalised Father's Day Gifts
The best gift to give a father figure in your life is something that matches his interest and passion. If he loves playing golf, you can get him a golf kit, or a beautiful mug for coffee lovers. There are also options of getting gardening tools, cooking tools, gadgets, tool boxes, etc. However, if you are leaning towards the sentiment of the occasion, then you should get a personalised Father's Day gift with his name or photo engraved on it.
2. Take Dad for a Meal
Take your dad on a date to a fancy restaurant and treat him to a good meal and his favourite wine. Talk about all the memories you have shared together, future plans and everything in between. He will surely love this nice gesture, and this will make him happy to have you.
3. Take Part In a Family Activity
Schedule fun activities to be carried out on that day and dedicate your time in getting it done. You can choose to stay indoors or go outdoors as a family. If you want to stay indoors, there are activities like playing games, watching movies or cooking that can create a lasting bond as a family. And if you want to create more memories, go to the cinema, play family sports together or go to the park and have a beautiful picnic.
4. Workout Together
After a tough day at work, your dad probably won't have time to get in a good workout. Take advantage of his exercise equipment (if he has it) and give him a stress-reducing, quality bonding experience by challenging each other to see who can get in better shape.
5. Create a Photo Album
Photo albums are a great way to preserve memories, especially those you want to pass down to future generations. That is why you should invest in a high-quality camera and learn how to use it. It doesn't matter if you buy a DSLR or pick up a fancy phone; just take as many photos as possible with your dad on Father's Day. Then put your favourite ones on any of these personalised photo frames to serve as a keepsake for you and your dad.
6. Put on a Show
Have your kids put on a play or perform a song about how much they love their dad. As an extra, get them to create cards and write beautiful words to appreciate their dad. This will surely melt any dad and put a sweet smile on his face. 
7. Learn About His Family Tree
Tracing your father's family tree can help you learn more about his family's past and cultural heritage. It can be a meaningful way to feel more connected to your family, past and present.
8. Show Him Care
Your father probably deserves a pat on the back for taking care of you and being there for you when you needed him. Surprise him by giving him a gift that shows your appreciation. Consider one of these ideas: an edible gift basket filled with a favourite food or drink, tickets to an event he'd like to attend, or money he can use to go shopping.
9. Create a Custom Card
Finding a card that properly expresses how special your dad is can be tricky. Your dad means so much to you, but if you are struggling to express just how awesome he is in a physical manner, it might be time to get creative. Create your own card and reflect on all of his positive attributes with sweet words that would evoke emotions. Let your imaginations run wild, you never know what kind of cool designs you could come up with.
10. Go on a Road Trip
Spending quality time on a road trip can be good for both of you and also as a family. Even if you don't usually spend much time together, having a father-child outing is a great way to get close and increase your bond. By going on a road trip or other adventure together, he will feel that you care about him as an individual and not just as his father.
Conclusion
We hope you love the different ideas on how to celebrate Father's Day in style and you have chosen the best idea(s) that works for you and your family. If you are thinking of the perfect sentimental gift, then visit our store now for personalised gifts for dad, you can also click and collect them the same day!
Happy Father's Day From Pure Essence Greetings!
Did you find this guide helpful? Please click on the buttons and share. You can also share your thoughts with us in the comments below.
Hope to hear from you soon!
info@pureessencegreetings.co.uk
+44 121 2850685